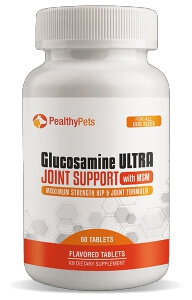 Glucosamine Ultra Joint Support from Pealthy Pets is a natural alternative which has been designed especially for dogs to support joint function, maintain healthy tissues and promote better quality of life. It is made up of beneficial natural ingredients that offer hip and joint health care to match your pet's specific needs. Glucosamine Ultra is a proven dietary supplement for dogs and it is also highly recommended by veterinarians.
Did you know that at least 25% of the dogs suffer from arthritis? Arthritis is not a problem that is only related to age. According to several independent studies, joint diseases that result from developmental diseases occur in about 70% of the cases. The rest occur in dogs who are under the age of one. Therefore, it is never too late or too early to think about your dog's joint health.
IMPORTANT:
This product is out of stock. We cannot provide you with similar alternative but you can always find helpful information on various topic in out
blog
.
In this review, we will take an in-depth look into what Glucosamine Ultra Joint Support is, what it is made up of, how much it costs, where it can be purchased from, the opinions of pet owners who have used this product and much more.
But before that, we will look at some of the common joint problems that dogs suffer from and their main causes. Let's get started.
Joint Health Problems in Dogs and Their Causes
It is heart breaking to see your lively and healthy pets limp or going through stiffness and obvious pain. If you get home some day and notice that your furry friend doesn't jump up and down to greet you, then there could be a good reason for that. It may be suffering from osteoarthritis or any other type of joint problem.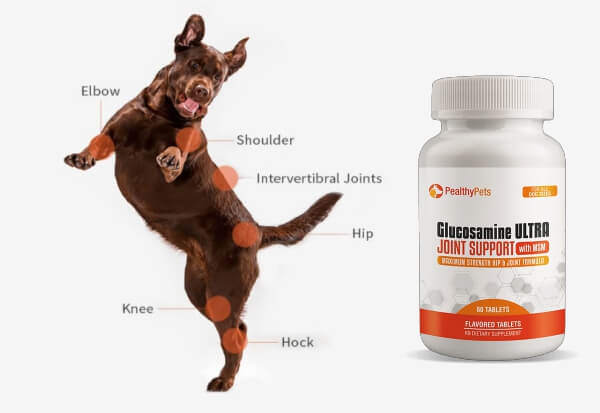 Your veterinarian may always encourage you to keep your dog active by allowing them to run and jump around. But did you know that the more active they are, the more pressure their joints experience. Your dog's joints experience a lot of pressure which can increase the chances of injuries and also lead to joint related problems. Also, there are some breeds of dogs which are more prone to joint injuries. For example, Newfoundlands are more likely to suffer cruciate ligament diseases than other breeds of dogs. Mountain dogs can easily suffer from elbow dysplasia and Rottweilers are at an increased risk of developing ankle and knee problems. Moreover, degenerative and developmental problems are more likely to affect bigger dogs.
Canine osteoarthritis affect more than 90% of the dogs that are over 5 years of age. It is a painful disease which can make your dog less active and healthy. It occurs when the cartilage rebuild process has slowed down causing cartilage degradation. Your pet will begin to experience acute pain, inflammation and irritation as a result of this process which will drastically affect its quality of life and health.
There are many causes of canine osteoarthritis and these include the following: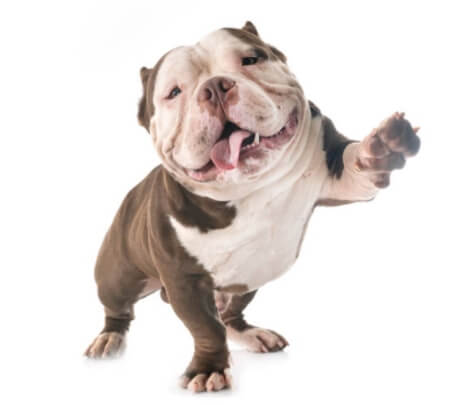 An injury to the joint
Wear and tear of the joint due to stress or repeated loads
Obesity
Developmental problems affecting the stability and shape of the joint
Genetics
Poor limb configuration
What is Glucosamine Ultra Joint Support?
Glucosamine Ultra Joint Support is a dietary supplement for dogs that promotes cartilage health, relieves arthritis pain, restores joint health, improves joint lubrication and increases mobility. It is the number one supplement that your dog needs for complete restoration of joint health without any medications or drugs. Glucosamine Ultra from Pealthy Pets can allow your beloved pets to heal naturally and enjoy pain free life.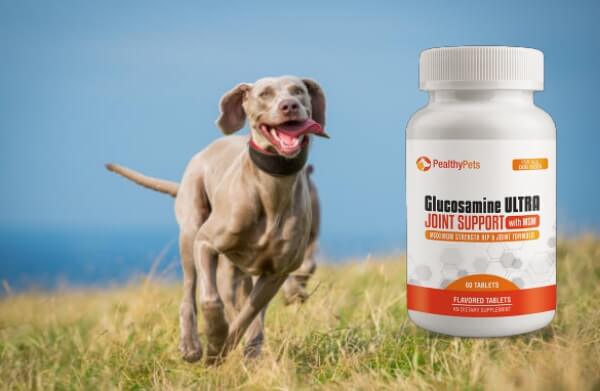 The supplement is formulated using vital ingredients which are clinically tested and proven to strengthen, revitalise and repair joints. The supplement is also easy to give to your pets. It ensures optimum health of your dogs as it combat joint and hip pain, stiffness and inflammation.
Glucosamine Ultra Joint Support supplement is suitable for dogs of all ages and sizes. It has a great taste, which means that you won't have to struggle to make your dogs take it. In fact, with its unique flavour, this supplement is something that your pets will look forward to each day.
Whether your dog is suffering from joint problems or showing signs of joint health issues, this supplement is just perfect for preserving the integrity of joints and preventing bones and cartilage from deterioration. There is no doubt that your furry friends will love this formula live a healthy and pain free life without any joint problems.
Active Ingredients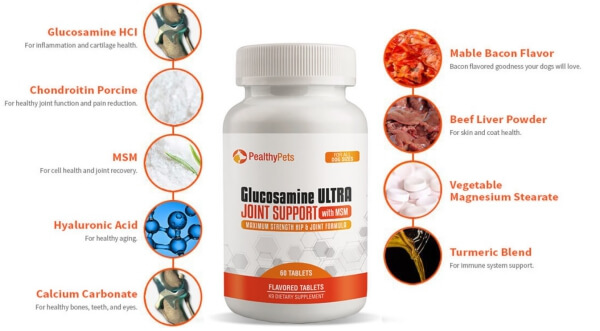 The key ingredients in Glucosamine Ultra that recondition, strengthen and protect joints include:
Glucosamine – has anti-inflammatory effect which helps relieve pain and discomfort. It helps restore joint health and promotes healthy cartilage.
Chondroitin – aids absorption of nutrients into the cartilage and promotes the build up of cartilage.
Methylsulfonylmethane (MSM) – works as a great antioxidant to reduce pain and inflammation. It also promotes joint support.
Other than these three main ingredients, Glucosamine Ultra Joint Support supplement includes the following:
Hyaluronic acid – promotes healthy aging.
Calcium carbonate – promotes healthy bones and teeth.
Mable bacon flavour – produces a taste that your dogs will love.
Beef liver powder – for healthy skin and coat.
Turmeric blend – helps improve immune functions
How to Use The Tablets for Dogs?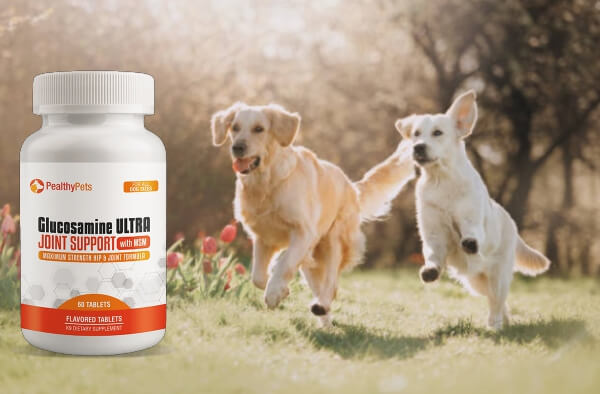 The number of tablets you give to your dogs depends on the weight of the animal. According to the instructions provided on the packaging of Glucosamine Ultra, here's how to give the supplement to your pets for better joint health.
½ tablet daily for dogs 10lbs and under
1 tablet daily for 10-30lbs
1 ½ tablets daily for 31-65 lbs
2 tablets daily for 65lbs and above
Glucosamine Ultra Opinions, Commnets, and Reviews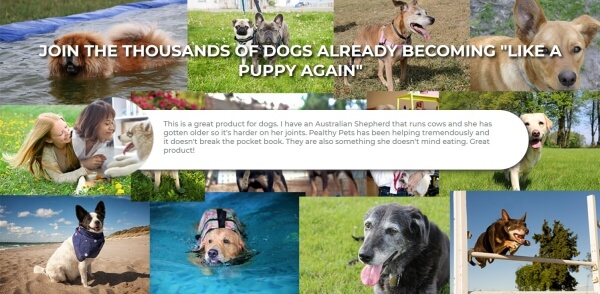 Dog owners know how hard it is to see their pets suffering silently in pain. After all, dogs cannot tell you when they are in the pain or how much pain they are going through but their actions are enough to indicate that their quality of life is deteriorating. So to ensure the joint health of their furry friends, thousands of dog owners rely on Glucosamine Ultra Joint Health supplement. There are so many reviews and comments published online which prove that this product is definitely the perfect choice for their pets. Many pet owners have noticed a considerable difference in the behaviour of their pets after giving them Glucosamine Ultra. Through the reviews and feedback, many pet owners have stated that this product has improved their dog's flexibility, muscle function, joint function and mobility. They say that their dog's wellbeing has been upgraded after introducing Glucosamine Ultra in their lives.
In summary, these are the benefits pet owners who give their dogs Glucosamine Ultra have noticed.
All natural, safe and effective dog supplement
Promotes mobility of dogs
Promotes active lifestyle
Restores hip and joint health
Improvement in movement and flexibility
Improvement in overall health and wellness of dog's hip and joints
Delicious flavour which dogs love
Perfect supplement for dogs of all breeds, sizes and age
Affordable price and great promotional offers
Easy to purchase online
Timely delivery guaranteed
Glucosamine Ultra Price – Where to Buy Online?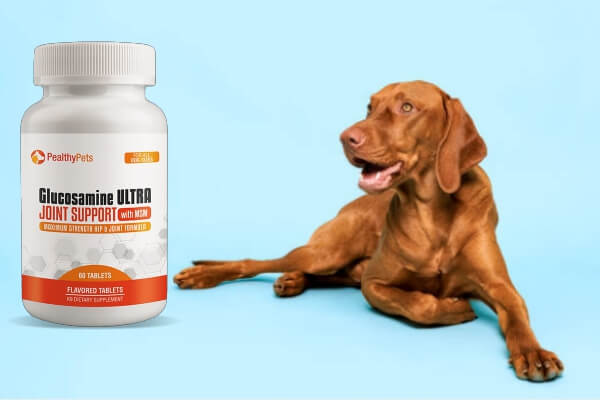 If you are looking to purchase Glucosamine Ultra supplement from the internet, the best place for great deals and discounts is the official website of the product. Visit the website today and take advantage of irresistible offers. Basically, the more you shop, the more you save. Discounts up to 70% is available with purchase of 5 months of supply for your pets.
So what are you waiting for? Place your order online and protect your dog's joint health with this extremely effective, yet affordable dietary supplement.
The Bottom Line: Glucosamine Ultra Joint Support supplement from Pealthy Pets helps improve hip and joint health of your dogs. It is a clinically proven and veterinarian recommended product which helps reduce joint pain in dogs, improves mobility, heals tired joints, promotes healthy joint and muscle functions and improves the overall wellbeing of your dogs. Thousands of pet owners trust this product for its natural goodness and effectiveness at treating joint disorders. Their comments and opinions suggest that Glucosamine Ultra is the perfect supplement for your pets. As far as the price is concerned, Glucosamine Ultra is highly affordable and suits the needs of all kinds of dogs; regardless of age, size or breed.
IMPORTANT:
This product is out of stock. We cannot provide you with similar alternative but you can always find helpful information on various topic in out
blog
.